vertical garden accessories supplier
vertical garden panels india, vertical garden frame supplier, vertical garden pot supplier, vertical garden delhi, vasant kunj, gurgaon, noida, chandigarh, vertical garden panels bangalore,green wall, artificial green wall, bio wall manufacturer, artificial grass carpet, artificial lawn grass supplier, garden panels pune, vertical garden pune
looking for green wall manufacturer – swimming pool, fountain lights supplier, fountain dealer, under water fountain nozzles Delhi, Delhi NCR, Chennai, Kolkata, Bangaluru, Ahmedabad, Hyderabad, Lucknow, Kanpur, Varanasi, Jaipur, Jodhpur, Ajmer, BikanAgra, Meerut, Aligarh, Allahabad, Banaras, Mathura, Jhansi, Ghaziabad, Noida, Bareilly, Moradabad, Saharanpur, Uttar Pradesh, Punjab, Chandigarh, Jalandhar, Amritsar, Ludhiana, Bathinda, Pathankot, Patiala, Hoshiarpur, Himachal Pradesh, Shimla, Dharamshala Bhopal, Jabalpur, Gwalior, Ujjain, Sagar, Ratlam, Satna, Dewas, Gujrat, Surat, Vadodara, Rajkot, Bhavnagar, Jamnagar, Gandhinagar, Karnataka, Davanagere, Belgaum, Hubli, Chitradurga, Tamilnadu, Coimbatore, Madurai, Salem, Trichy, Tiruppur, Erode, Vellore, , Patna, Gaya, Bhagalpur, Muzaffarpur, Jharkhand, Jamshedpur, Dhanbad, Ranchi, Assam, Guwahati, Agartala, Shillong, Haryana, Karnal, Ambala, Panipat, Rohtak, Hisar, Faridabad, Gurgaon, Maharashtra, Pune, Nagpur, Thane, Nasik, Aurangabad, Rajasthan, Goa, Jammu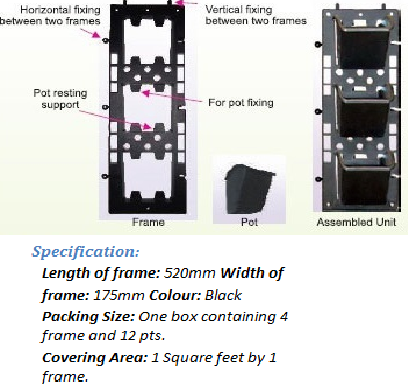 Free Maintenance Advice Post Installation
Specification:
Length of frame: 520mm
Width of frame: 175mm

Colour: Black
Packing Size: One box containing 4 frame and 12 pts.
Covering Area: 1 Square feet by 1 frame.
ADVANTAGES OF VERTICAL GARDEN
Easy installation.
Low cost due as compared to other vertical garden
Easy to maintain
Best utilization of Space for Plant Lovers
Easy manual watering as well as drip irrigation
Delivery Available Across India
Artificial Grass offered by us is an everlasting, safe alternative to natural grass. Our offered Artificial Grass can transform any area into natural looking grass option and is perfect for play areas, exhibitions, balconies and gardens. No more mess, mud or mowing are few benefits of having a fake lawn. These offered artificial grasses are soft and comfortable.

Features:
· Soft and comfortable
· Easy maintenance
· No mess, mud or mowing
· Attractive look
Features:
· Installation: Easy to install
· Maintenance: Easy to maintain, does not require any trimming, fertilizer, irrigation etc
· Environmental Friendly, does not contain heavy metal material, can be recycled
· Look & Feels like real grass, ideal decorative martial and it has high degree of heat and noise insulation effect.
· UV Resistant, color of the grass does not fade in sunlight
· Applications: wide applications like kindergarte, Terrace, Landscaping, Courtyard, Parks, Marriage Places, Sports floor etc

Specifications:
Material

PE & PP

PE & PP

PE & PP

Pile Thickness

20 mm

35 mm

35 mm

Gauge

3/8 inches

3/8 inches

3/8 inches

Stitches/mtr.

160

145

145

Base

Three Layers

Three Layers

Three Layers

Color

Two Tone

Two Tone

Two Tone

(Light And Dark Green)

(Brown &Green)

(Light And Dark Green)