floating fountains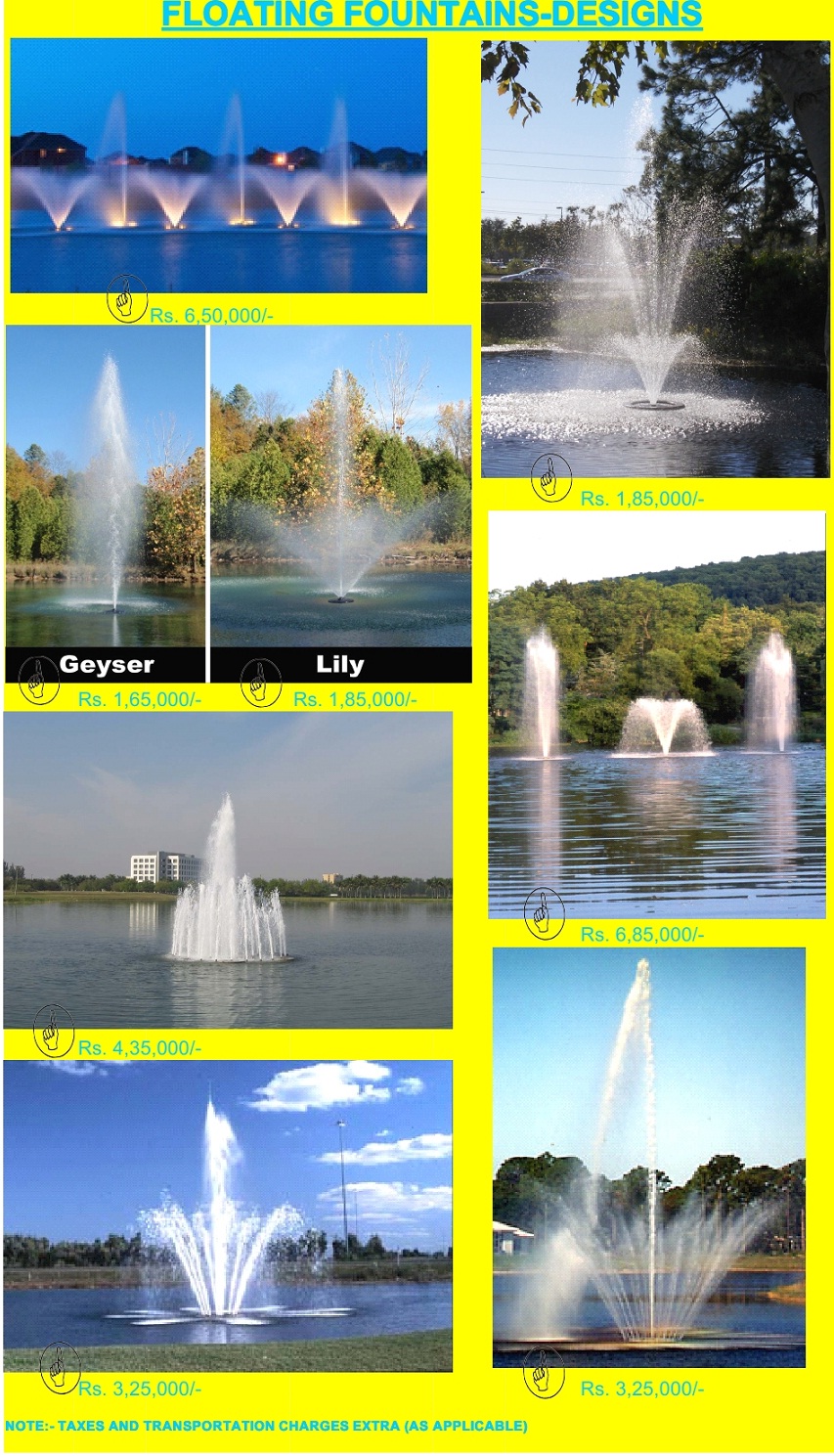 FLOATING FOUNTAINS FOUNTAINS, FLOATING FOUNTAINS, POND FOUNTAINS, MARBLE FOUNTAINS, NATURAL ROCK FOUNTAINS, STONE FOUNTAINS, FIBER FOUNTAINS, WATER FALL FOUNTAINS, WATER SHEET FOUNTAINS, WATER CASCADE FOUNTAINS, WATER CURTAINS, THREAD WATER CURTAINS, ROUND FOUNTAINS, WATER FEATURES MANUFACTURERS, WATER FALLS, NATURAL WATER FALLS, ROCK FOUNTAINS, LOBBY FOUNTAINS, ROUND ABOUT FOUNTAINS, INFINITY POOLS, LAKE FOUNTAINS MANUFACTURERS,
WALL FOUNTAINS, GLASS WATER FOUNTAIN, INDOOR FOUNTAINS, GEYSER JET FOUNTAIN, DANDELION FOUNTAIN, BELL FOUNTAIN / UMBRELLA FOUNTAIN / MUSHROOM FOUNTAIN VERTICAL JET FOUNTAIN, WATER CURTAIN FOUNTAIN, TRICKLING FALL FOUNTAIN, FOAM JET FOUNTAIN, THREE STAGE FOUNTAIN / TWO STAGE FOUNTAIN / FLOWER FOUNTAIN STREAM JET FOUNTAIN, HOLLOW JET FOUNTAIN, MUSICAL FOUNTAIN, PROGRAMMABLE FOUNTAINS, DANCING FOUNTAIN, FLOATING FOUNTAIN, FLOATING DANCING FOUNTAINS, LAKE FOUNTAINS, CROWN FOUNTAINS / DOME FOUNTAINS / FAN JET FOUNTAINS, AERATOR JET FOUNTAIN, REVOLVING FOUNTAINS, WATER SCREEN FOUNTAINS, REFLECTING FOUNTAINS , LASER FOUNTAINS, DRY FOUNTAIN, WATER CASCADE FOUNTAIN, SHEET WATER FOUNTAIN, STEP WATER FOUNTAIN.
WE HAVE GREAT EXPERTISE IN DESIGNING AND CONSTRUCTION OF ALL KIND OF SWIMMING POOLS : INFINITY EDGE, OVERFLOW CHANNEL, DESIGNER SWIMMING POOLS, SKIMMER BASED SWIMMING POOL, REMODELING OF SWIMMING POOLS, PIPE LESS SWIMMING POOLS, COUNTER CURRENT SWIMMING POOLS, COMPETITIVE SWIMMING POOLS, SWIMMING POOL MANUFACTURERS, FOUNTAINS IN RESORT, FOUNTAIN IN RESTAURANT, FOUNTAIN IN FARM HOUSES, FOUNTAIN IN CLUB, FOUNTAINS IN HOTELS, FOUNTAIN IN SCHOOLS, FOUNTAIN IN HOSPITALS, FOUNTAINS IN PARKS, FOUNTAINS IN SCHOOLS COLLEGES, FOUNTAIN IN PUBLIC PLACES, FOUNTAIN IN GOVT. ORGANIZATIONS COMPANIES, FOUNTAIN DESIGNER, LANDSCAPE DESIGNER, ARCHITECTS, BUILDERS, CONTRACTORS, DESIGNERS, GOVT CONTRACTORS, KIDS SWIMMING POOLS, WAVE SWIMMING POOLS, LAZY RIVER SWIMMING POOLS, WATER PARK SWIMMING POOLS, SWIMMING POOL WITH JACUZZI, WHIRL POOLS, STONE MADE SWIMMING POOLS, VINYL SWIMMING POOLS, FIBER MADE SWIMMING POOLS, KIDNEY SHAPE SWIMMING POOLS, RECTANGULAR SWIMMING POOLS, FOUNTAIN SWIMMING POOLS, DIVING SWIMMING POOLS, ALL WEATHER SWIMMING POOLS ETC.


WE OFFER A WIDE RANGE OF FLOATING FOUNTAINS THAT PROVIDE THE MUCH NEEDED AERATION FOR POND OR LAKE. THE PUMP BODIES IN THE FOUNTAIN PROVIDE A BASE FOR UP TO EIGHT EASY TO CHANGE NOZZLES. THESE FOUNTAINS ARE EASY TO MAINTAIN AND CAN BE USED IN RESIDENTIAL AS WELL AS COMMERCIAL BUILDINGS.
•
MEDIUM
•
FLOAT SIZE : 4' DIA
•
NOZZLE TYPE : AERATOR/FINGER/VERTICAL/CASCADE/LILY
•
NOS OF LIGHTS - 6 NOS LED BASED LIGHTS